primal
I found the answer for my body. Keep the carbs under 20 and the fat percentage anywhere between 70 and 80%.
A few days ago I made fish cakes with coconut flour and that was a mistake. My weight went up instantly – about 800g. I was not pleased. So I cut carbs down to below 20 and voilà! A whole kilo gone in 4 days. Must have been water weight, but it taught me something.
The other trick is to eat a l-i-t-t-l-e supper. I had 2 boiled eggs and some mayo and that was more than enough.
Breakfast this morning was at 10:15 (I eat between 10 and noon) and I made sure it was high fat. Here it is…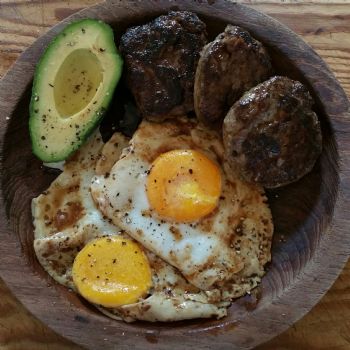 This is a very South African dish – called Skilpadjies which means tortoises – with not a tortoise in sight! It comprises lamb liver minced and flavoured and made into a pattie and wrapped in caul fat and this was fried in coconut oil. The avo is full of lipase and helps to break down fat while the eggs are…well we all know eggs! Great protein and good stuff.
That will keep me satisfied for a l-o-n-g time.
Until later…
Whoa! Did I get a rocket today from a Facebook Banting chap! All about enzymes. He drilled me as to why I was suggesting avocado instead of cooked vegetables for lipase content. So – just in case anyone is wondering why I suggested that, and in case you haven't read my blog post on enzymes, I shall repeat. All enzymes are destroyed through cooking and heating. This is a fact I discovered when researching. It seems as if that is not so important to the chappie (who shall remain nameless) as he went on to give me links to enzymes. I shall repeat, picky person with harsh words…Raw Raw Raw! That is what I was trying to get through! Cooked vegetables do not contain working enzymes. And I believe in enzymes to help with our digestive process. I am not a doctor, nor a nutritionist, but I do believe in the power of raw, enzyme rich, nutrient dense foods.
An enzyme stays an effective enzyme if it's raw – and the harsh person? May he be blessed with happy thoughts!
On with the Revolution!
A Happy Sunday Breakfast Dish!
It was Yummy. Savoury Mince with Eggs and Avo (and a tomato:)
I was not hungry for hours after, and eventually had a creamy coffee and 6 almonds. So far tonight I have eaten one hard boiled egg with a tablespoon of mayo. I might just have the last one in a moment…good thing I love eggs!
Eggzactly!
Love and peace…and happy Banting
I love SparkPeople. Their nutrition tracker has been my saving grace for a while now. For instance, I had a really big breakfast this morning.
Beef Mince flavoured with Smoked Paprika & Turmeric, 3 Eggs, Avo & a Cherry Tomato
Spike day is my 'up the carbs' day. I keep my carbs at 20 per day so I reset my metabolism on the 7th day, (I call it Reward Day, since I have been so awesomely good and because I don't want my body to think I am starving it!). I also know that when I eat more carbs on my strict days I can tend to overdo them. 6 strict days means I can play on the 7th day, and I choose to stay within Banting rules then. That is when I make my favourite coconut pancakes.
 Coconut Pancake with Macadamia Cream Filling
I use my SparkPeople nutritional tracker to help plan my day, even on Reward Day. I can also look back and see what I have eaten at any time. It is so helpful. Like today – I had such a big breakfast, all legal, and even with my palm size protein and green drink (which is 8 carbs) for tonight, I still have 2g left over.
Water has been my good companion today and I find that I am drinking quite a bit. I think this is also because protein is a diuretic and I had a fair bit yesterday. So water is my friend…I also had 2 small cups of black filter coffee with cinnamon and coconut oil…delicious.
Today has been an industrious one. Now for a stroll with the dogs and my own Banting Cocktail (Sparkling Water with Bitters)
Have an awesome evening…
Banting snacks seem to be a hard one for some, so I am going to start posting mine as and when they come. Here was today's one:
Salami and Avocado Bites
Pinterest is a wonderful place to go and look around. I made a couple of lists and am going to see what I can come up with to make some even more yummy ones! Watch this space…
Hello again Banters all
Today is beautiful here in the mountains and work on preparing the horse arena is ongoing while I sit and write recipes and menus for an upcoming Banting talk. I love doing this. The recipe book is coming together really well and there are some awesome food experiments coming up. Needless to say, I am passionate about good tasty healthy nutritious food! And it has helped me lose 18kg so far!!!
Today's breakfast photo is Liver and Eggs:
It is a simple meal but oh so tasty. The liver is cut into strips and then rolled in almond flour and fried. I served this with egg and home-cooked creamed organic spinach from the garden, and a slice of avocado. Really delicious combination.
That's all for now…be back soon
Have a stunning day – keep on with the Revolution!
Following The Real Meal Revolution by Tim Noakes, Sally-Ann Creed, Jonno Proudfoot and David Grier
15.2 kg gone in 124 days, (that is just under 18 weeks). I am happy with half a kilo a week so this is great.
After researching low carb diets for a few years, and starting and failing on all, I bumped into Banting. By that time I had come across Ayurveda (best time to eat at 12 noon), Intermittent Fasting (stop eating at 8 pm and eat at 12 noon the next day – 16 hr fast) and Carb Cycling/Reward Meals/Spike Day (for re-stoking the metabolic fires).
I have done intermittent fasting for some while now while trying to find my way in the already tried and failed low carb world. Then I found Banting which just slotted in as if my journey had been waiting for just that moment.
Energy abounds! The morning starts with my Coconut, Lemon and Salt and Hot Water (I should call it CLASH Water). I am hardly ever hungry and my first meal of the day at noon is sometimes hard to finish. Like breakfast this morning!
 Lamb's Liver sauteed in Burnt Sage Butter and Scrambled Egg
&
 Stir-fried Spinach with Garlic and Red Onion served with Avocado
Eating to satiety is something I learnt from the Big Banting Breakfast Debate (BBBD) group on Facebook. Eat to satiety off the Green List in The Real Meal Revolution (you can get the lists by visiting their website www.realmealrevolution.co.za). The rest of the day is a breeze.
I must explain that Charles Lubbe who runs the BBBD recommends eating within 30 minutes of waking and while I understand the principle which I have also found on some body building sites (I have been strange places), my experience of intermittent fasting has brought me to this place on my journey. Charles always says "there are no nannies here" so I walk my path confidently in the way it works for me and this sure works!
The glorious lack of hunger indicates that my body is a truly hot fat burning furnace. I can just see all those fat cells letting go of their contents! I get through the day very easily after that first meal. Any snack late afternoon is small, perhaps half an avocado, a small handful of nuts or biltong, or some seeds.
Supper is invariably small, often just some protein and fat if I don't feel like vegetables. Left over chicken or perhaps a bowl of bone broth. (That is one of my favourite small meals.) I do try to eat a salad some nights.
I set myself a challenge after losing 15 kilos, and that is to exercise before every meal, and I am not allowed to eat unless I have cycled for at least 10 minutes. This has resulted in me getting more and more into movement and now I have added walking in my forest with the dogs, and this is on a slope so when I head for home, it's upward all the way. It works up a sweat and my heart is working hard by the time I get back to the house. When I talked on the phone yesterday, I found myself bouncing gently on the rebounder for a good few minutes and I know the enormous benefits of doing just that. Amazing.
For years I have been writing a recipe book, and it is only now that I have joined the Real Meal Revolution that everything is falling into place. My first meal of the day is the most important to me so that requires thought and nutritional creativity. Just up my alley! In the writing of this book I am committed to creating something different for 52 weeks of this year. That's 52 recipes…
Join my Banting Journey and watch this space for the first recipes.
(The Real Meal Revolution by Tim Noakes, Sally-Ann Creed, Jonno Proudfoot and David Grier)
The day started with a bowl of pickings from the beef and venison bone broth.
After that my next meal was an Omelette filled with Bacon and Mushrooms and about 6 cups of black rooibos tea! It was at a restaurant but I did not inquire as to what oil they were using, but it was a filling meal. The bread remained in its cloth covered basket and I resisted the temptation of coffee. It is getting easier now. I must admit that I was sorely tempted to have coffee with cream but my commitment held strong.
I was not that hungry as night arrived, so this is what I made:
Crispy Skins from Chicken Thighs and Heirloom Baby Tomatoes
I do love them skins! The rest of the chicken is packed away in the fridge waiting for tomorrow. A chicken salad sounds good, yes?
Late night (I stayed up way too late as usual) called for a snack and so I had venison salami slices. Just enough and not too much. Now my eyes are rapidly closing and I must away into the arms of Morpheus.
A Beautiful Banting Day …
Sister's day was a little different to mine!
Banting day 3 from Scotland

I fear that I am on rebellion 101!! I don't like green tea, I miss my Ceylon tea with low fat milk.

I don't like my bacon done in the microwave and I cannot use my kitchen.

I am so indoctrinated into eating low fat high fibre that I find fat off-putting.

I, believe or not, am laughing through all of this because I have a sense of humour and I realise that I have probably chosen the worst week in my life to start Banting….a member of the household is very ill, I have no kitchen as the AGA is in but the cupboards and shelves and plumbed goods are only going in today and they will be finished tomorrow (I hope).
My microwave is in the laundry/scullery which has been called the galley kitchen, but I am too fat to slide past my lovely svelte partner in the galley!!
The knives and forks are in the passage, the butter and meat etc is in the fridge in the kitchen on the other side of the house….so actually it is very much a case of laugh while you can. If I can survive this I can survive Banting! And all this without a glass of wine…the only whining I am doing is at the top of the page!!
The up side is I already feel lighter and smaller, and of course I am peeing like a well hydrated horse!!
Breakfast this morning was bacon cooked in the microwave (don't you hate the idea of all those little nuclear molecules dancing around creating some kind of fission to cook your food???)
Egg with organic coconut oil. Organic! What's the point if you are going to nuke it anyway…please see lightness and laughter, no criticism in this!

Spinach added, served with loads of cracked black pepper.
2 eggs, 3 rashers of bacon and a handful of spinach.
The breakfast was very tasty, and I am sure that I will only have a late lunch or supper now.
I got a note later to say that my sis had lamb and broccoli soup tonight. I think that's pretty cool, and I am proud of her for hanging in there in the middle of what must be pretty nightmarish!
Tuna salad was my supper and it was more than adequate. I dressed it with some olive oil and verjuice and sprinkled a little Tabasco over it. Yumness.
Marching on with The Revolution!…
(The Real Meal Revolution by Tim Noakes, Sally-Ann Creed, Jonno Proudfoot and David Grier)
Hello fellow Banters!
Today I am going to sing the praises of the humble bone broth. Cheapest way to fill your tum. This morning I bought some meaty venison bones from the local store. Venison has to be organic, right? I was so excited I bought 5 packets, they were R17 each. Bit by bit I browned two packets of bones in coconut oil in a heavy bottomed pot until they were smelling really good. I then added filtered water to cover, an onion studded with 3 cloves, a stick of celery and a carrot cut up in chunks, two bay leaves and about a tablespoon of apple cider vinegar. After bringing it to the boil I turned it down and left it to simmer for about 3 hours or more.
For lunch I had the marrow from four bones and a soup cup of bone broth. It was so delicious I went back for another cup! Of course it is up to you as to what herbs or spices you add but it was the simplest combination and it was so flavoursome. I removed no fat and drank it the way it came out the pot.
Afterwards I poured the remaining stock and bones into the slow cooker and added more water to cover and another squirt of ACV (it helps to draw out the minerals from the bones) to cook overnight so that that the flavours really intensify and it becomes a rich, nutritious broth.
I truly believe that bone broth can make the Banting diet more accessible to those who are on a really tight budget and they will be getting great nutrition from it. I for one will be using this as a standard beverage/food on my Banting Journey. It is filling and tasty and that is what counts for me, and it has no carbs as I strain out all the vegetables and drink only the broth. The meat and gelatine on the bones is tasty and good for you, so indulge! I do
In fact I had the meat that fell off the bone this morning for breakfast around 10.30. The slow cooker ROCKS!
Just
When the Atkins Diet was all the rage, first in the late seventies and then again in the nineties, it was criticised for its lack of vegetables. Those same critics most likely did not read the Atkins Diet Revolution too well, because they would have seen the three cups of vegetables recommended daily. Two salad and one cooked vegetable. And that was only in the first two weeks of induction. After induction you could add more vegetables until you reached your CCL (Critical Carbohydrate Level) where you would no longer be losing weight. Unfortunately there were a whole bunch of low carb products (fake foods) being touted as well, and a low carb candy bar seemed much more exciting than a stick of celery. No vegetables meant more constipation as people were not getting enough fibre. The diet was blamed.
There are also those who complain they cannot eat fruit on a low carb diet. If you read the orange list in The Real Meal Revolution by Prof Tim Noakes et al, you will see a comprehensive list of fruit from which we can choose to eat, as long as we include it in our carbs for the day. The decision is ours to make. A little pineapple or apple in the chicken salad does make a difference every now and then. And strawberries and cream are a true treat. However, I am beginning to see the value of noting the carbs on a daily basis. Munching meats is cool because there are no carbs to count, nor in fat. Milk, cream, cheeses, nuts and seeds (which means crackers and breads) all need to be counted, along with the more dense vegetables. Unless it is high fat such as butter and lemon, sauces need to be limited and some archived for the moment.
The simple rule would be to choose our carbs wisely.
I think it was in a Paleo article where it was suggested that we should eat only those things that you could pick, dig out or kill with a pointed stick while naked on the plains, or was it the savannah? Now I don't know about naked with a pointed stick, but I do get their meaning. It all boils down to real, natural food. Stuff that you could mostly eat raw actually. Raw meat? Come on, you know steak tartare don't you? Well, you get my drift. You can't eat rice raw, or wheat,  or legumes unless sprouted. Sugar would be sucked from a cane and if the bees didn't get you, honey would be a rare delight. Real food is what we need to keep healthy. Our bodies are made for it. They thrive on natural organic foods.
Sweets don't grow on trees.
Not long ago in a meditation course with Osho, the one thing that stuck with me was the word "mindful". Eating mindfully has become another reminder from my nagging but caring inner voice. We cannot eat mindfully in front of a television. In fact, I think we eat most mindfully when we are alone. Osho declared it would take much longer to eat our meals if we did so in a mindful manner. Slowly, chewing well, savouring and focusing on every mouthful. When the inner voice gets through to me and I practise that mindfulness, it works. It is then that a stick of celery delights.
Slow and steady with the Revolution…