Banting – it's working!!!…
I found the answer for my body. Keep the carbs under 20 and the fat percentage anywhere between 70 and 80%.
A few days ago I made fish cakes with coconut flour and that was a mistake. My weight went up instantly – about 800g. I was not pleased. So I cut carbs down to below 20 and voilà! A whole kilo gone in 4 days. Must have been water weight, but it taught me something.
The other trick is to eat a l-i-t-t-l-e supper. I had 2 boiled eggs and some mayo and that was more than enough.
Breakfast this morning was at 10:15 (I eat between 10 and noon) and I made sure it was high fat. Here it is…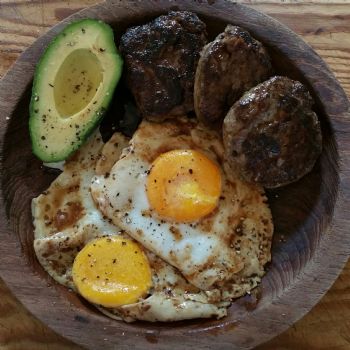 This is a very South African dish – called Skilpadjies which means tortoises – with not a tortoise in sight! It comprises lamb liver minced and flavoured and made into a pattie and wrapped in caul fat and this was fried in coconut oil. The avo is full of lipase and helps to break down fat while the eggs are…well we all know eggs! Great protein and good stuff.
That will keep me satisfied for a l-o-n-g time.
Until later…